Diamonds are women's best friend and a simple drop of the solitaire diamond pendant in a prong setting on the neck can bring out the glamour in you. It's one of the classic styles that remain timeless.
A diamond pendant is an essential part of your jewellery collection. A simple diamond pendant set with earrings can make for a thoughtful gift for your loved ones. This piece of jewellery can also be passed on to future generations.
How to pick a pendant that will bring out the glamour in your look?
A range of solitaire diamond pendants is something that is a perfect example of minimal glamour. It can be worn on a regular basis without feeling heavier around the neck. However, you can add a little bling to the solitaire diamond with another gemstone such as blue sapphire, ruby or emerald.
Here is a guide to help you pick a pendant that you would love to wear almost every day or for every occasion making it your style statement.
One of the first steps is to identify the kind of diamond shape that speaks your style.
Heart-shaped diamond pendant – A heart-shaped diamond makes for a solid piece of bling around your neck. It is a symbol of eternal love and can be paired with tiny heart-shaped diamond earrings.
Solitaire diamond pendant – An excellent cut solitaire diamond pendant with a simple chain is a girl's dream. A single diamond, nothing else. When you choose to pick out a solitaire pendant, you can look for various sizes and cut quality.
Oval shaped diamond pendant – Perhaps you can opt for an oval gemstone such as ruby, emerald or blue sapphire and have diamonds studded around it. A statement minimalist piece around your neck with a pop of colour will definitely be the showstopper.
Pear-shaped diamond pendant – One of the trendiest shapes in recent times. Pear-shaped diamonds make for an excellent drop diamond pendant set. Perhaps with a longer chain, it will give off a heavy look of the stone. For a little pop of colour, emerald with pear-shaped diamond is something to wear for a dinner date.
The setting style of the diamond pendant is important since it will enhance the look and feel of the stone.  Here are few classic settings for you to choose from –
Prongs – The classic setting style that holds the stone perfecting from the sides. The base will be like a crown where the stone sits and gives the wearer the feeling of glamour instantly. You can decide on the number of prongs.
Bezel – Bezel is another classic style that gives the stone a sophisticated touch. A bezel setting has two styles, a complete and half. A complete bezel setting covers the stone fully with a rim around the stone. On the other hand, a half bezel setting is partly covered, giving the pendant a modern finish.
To complete the glam quotient, the final touch is the metal. According to your style and preference – gold, white gold, or rose gold chain will bring out the glamour in your look.
For more tips on how to coordinate your jewelry with your outfit, check out the infographic below!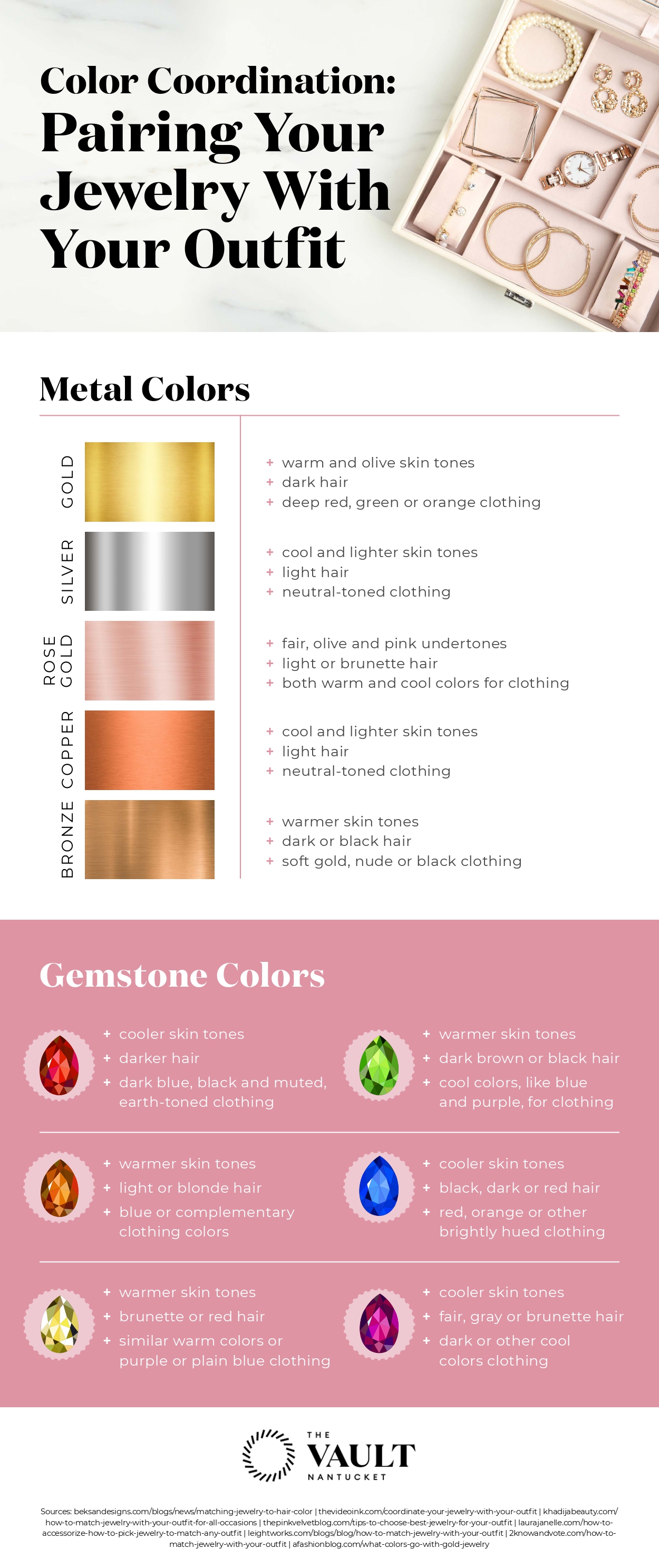 Infographic provided by The Vault Nantucket, a curator of luxury rings for women